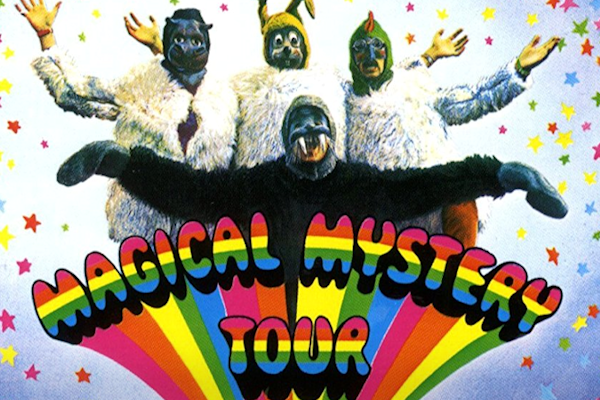 Magical Mystery Tour fue un doble EP del grupo británico The Beatles, fue un paquete especial con la banda sonora de la película Magical Mystery Tour y fue lanzado el 8 de diciembre de 1967 en el Reino Unido, parte de Europa y otros países. En Estados Unidos no se lanzó pero salió a la venta un álbum con el mismo nombre. Contenía un libro de 32 páginas llena de fotos exclusivas, un cómic de la historia original además de la letra de todas las canciones en el show.
Como la lista de éxitos dedicada a los EP fue abandonada a principios de diciembre de 1967, al EP solo le quedaba por competir en la lista de éxitos de los sencillos.
El lanzamiento tenía esperado vender en el Reino Unido más de 400.000, y para mediados de enero de 1968 había vendido 600.000, lo que obviamente lo colocó muy bien en la tabla nacional. Inmediatamente entró en la lista de singles, y saltó a la posición n.º 2.
Musicalmente, el dato más interesante es que incluye la primera canción instrumental de The Beatles, «Flying». También fue la primera pista que tenía los cuatro nombres como los escritores de forma conjunta. «Magical Mystery Tour» fue también el primer EP Beatle que se publicará en mono y estéreo, la versión mono está ahora eliminada.
Este es el tracklist del EP:
Disco 1
Cara 1
1. «Magical Mystery Tour»
2. «Your Mother Should Know»
Cara 2
1. «I Am the Walrus»
Disco 2
Cara 3
1. «The Fool on the Hill»
2. «Flying»
Cara 4
1. «Blue Jay Way»



Me gusta




1




Me encanta




0




Me divierte




0




Me asombra




1




Me entristece




0




Me enoja




0
---
---
08 de Diciembre de 2017 - Actualizado: 08 de Diciembre de 2020
---