El 8 de julio de 1889 salió al mundo por primera vez The Wall Street Journal por la Dow Jones & Company y el grupo Journal.
Sus inicios fueron un conjunto de boletines que se entregaban diariamente a los corredores de bolsa, estos boletines tenían reseñas y crónicas de noticias recientes y como estas afectaban al mundo financiero, hasta que los periodistas Charles Bergstresser, Edward Jones y Charles Dow se encargaron de transformar dichos boletines en un diario.
Actualmente The Wall Street Journal es un diario muy completo, el cual se encarga de cubrir noticias de cualquier tipo, pero centrado en la relación entre los eventos internacionales  y el mundo de las finanzas, además de que se encargan de registrar y difundir los precios del mercado financiero.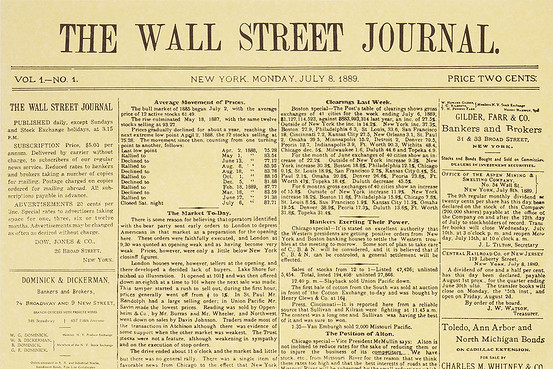 Por Salvador Vásquez
Con información de Britannica y Dow Jones History.



Me gusta




2




Me encanta




0




Me divierte




0




Me asombra




0




Me entristece




0




Me enoja




0
---
---
08 de Julio de 2019 - Actualizado: 08 de Julio de 2021
---