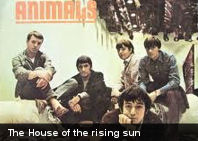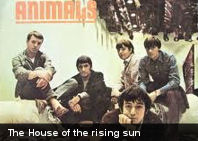 The House of the Rising Sun (La casa del Sol naciente) es una canción folk estadounidense, de autor desconocido, también llamada «Rising Sun Blues». Narra la vida de alguien que ha tenido poca fortuna en Nueva Orleans. Dependiendo de la versión, la canción puede ser interpretada desde la perspectiva de una mujer o de un hombre.
Las dos versiones más conocidas son la del grupo británico The Animals de 1964, que alcanzó el Nº1 en Estados Unidos y en el Reino Unido; y la de Joan Baez en 1959-60. Sin embargo existen más de 200 versiones de este tema. A continuación te presentamos algunas de ellas:
The Animals
Joan Baez
Dolly Parton
Bon Jovi
Nina Simone
@Culturizando
Culturizando no se hace responsable por las afirmaciones y comentarios expresados por sus columnistas, anunciantes o foristas; y no reflejan necesariamente la opinión de la misma.
Culturizando se reserva el derecho a eliminar aquellos comentarios que por su naturaleza sean considerados ofensivos, injuriantes, fuera de la ley o no acordes a la temática tratada.



Me gusta




0




Me encanta




0




Me divierte




0




Me asombra




0




Me entristece




0




Me enoja




0
---
---
30 de Mayo de 2011 - Actualizado: 30 de Enero de 2016
---