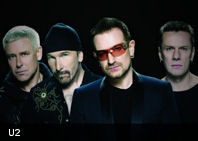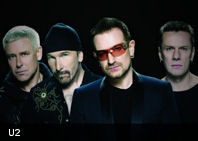 El 25 de septiembre de 1976 se formó oficialmente una de las agrupaciones contemporáneas más importantes: U2. Hoy, 38 años después aún nos deleitan con grandes canciones e increíbles giras. Para conmemorar este aniversario, consultamos con nuestros seguidores, sobre las mejores canciones de estos 38 años de U2, y esto fue lo que opinaron:

38.- Ordinary Love
37.- Sweetest Thing
36.- Desire
35.- Window in the Skies
34.- So Cruel
33.- Unknown caller
32.- All I Want Is You
31.- Original Of The Species
30.- A sort of Homecoming
29.- In a little while
28.- Get on your boots
27.- Zoostation
26.- The Unforgettable Fire
25.- The City of Blinding Lights
24.- Stay (faraway and so close)
23.- Miss Sarajevo
22.- Even Better Than The Real Thing
21.- Staring at the sun
20.- Hold me Thrill me Kiss me Kill me
19.- Electrical Storm
18.- I will follow
17.- Bad
16.- Moment Of Surrender
15.- Ultraviolet
14.- Stuck in a moment
13.- Who gonna ride your wild horses
12.- Vertigo
11.- Misterious ways
10.- Pride
9.- New year's day
8.- Walk on
7.- I still haven't found what i'm looking for
6.- Elevation
5.- Where the streets have no name
4.- Sunday Bloody Sunday
Y los 3 primeros lugares según nuestros distinguidos lectores son para:
3.- Beautifull Day
Primer single de su álbum All That You Can't Leave Behind (2000). Fue un gran éxito comercial, ayudando a lanzar el álbum al nivel de multi platino . La canción ganó los tres Grammys de la banda en el 2001: Record of the Year (Grabación del año), Song of the Year (Canción del año), y Best Rock Performance by a Duo or Group with Vocal (Mejor presentación rock de un dúo o grupo). También ha aparecido en The Best of 1990-2000 y en U218 Singles.
2.- With or without you
Es la tercera canción de su álbum de 1987 The Joshua Tree, fue lanzada como el primer sencillo del álbum el 21 de marzo de 1987, convirtiendose de esta manera en el primer sencillo de U2 en alcanzar el n.º1 en Estados Unidos, donde permaneció durante un plazo de tres semanas. «With or Without You» frecuentemente forma parte del repertorio en vivo de U2, además de aparecer en la mayoría de las compilaciones de la banda. «With or Without You» es la segunda canción de de U2 con más versiones de otros artístas. La revista Rolling Stone colocó a este tema en el número 131 en su lista de las 500 mejores canciones de todos los tiempos.
1.-One
Tema del álbum Achtung Baby y también ha aparecido en otras recopilaciones como The Best of 1990-2000 y U218 Singles.El significado original de la canción "nace como motivo de la hermandad y unanimidad entre los seres humanos" (Bono). Existen múltiples videos de One; el más conocido fue el vídeo dirigido por Anton Corbijn. La canción fue producida por Brian Eno y Daniel Lanois. U2 la tocó en vivo por primera vez el 29 de febrero de 1992 en Florida. En el año 1993 se realizó una versión especial de One en donde el grupo R.E.M., Larry Mullen y Adam Clayton de U2, la tocaron en vivo; ese grupo se ha denominado Automatic Baby. One fue calificada por la revista Rolling Stone como la 36º mejor canción de todos los tiempos.



Me gusta




1




Me encanta




0




Me divierte




0




Me asombra




0




Me entristece




0




Me enoja




0
---
---
25 de Septiembre de 2014 - Actualizado: 30 de Enero de 2016
---