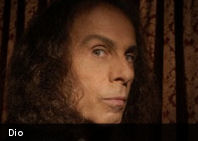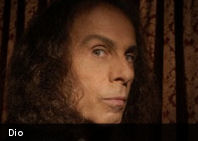 Ronald James Padavona, conocido como Ronnie James Dio nació un 10 de julio de 1942, fue vocalista de heavy metal en grupos como Elf, Rainbow, Black Sabbath, Dio y Heaven & Hell.

Por su inconfundible técnica, timbre y registro, muchos lo han considerado una de las voces más emblemáticas e influyentes de la historia del heavy metal, así como el «padrino» del heavy metal.
Dentro de los clásicos fundamentales de su discografía figuran Ritchie Blackmore's Rainbow (1975), Rising (1976) y Long Live Rock & Roll (1978), de su etapa en Rainbow; con Black Sabbath, Heaven and Hell (1980), Mob Rules (1981), además de Dehumanizer (1992), Holy Diver (1983) y The Last in Line (1984) con su propia banda, DIO; y por último, The Devil You Know (2009) con los viejos integrantes de Black Sabbath en Heaven & Hell.
Desde finales de los 70 fue él quien ha venido popularizando el símbolo del heavy metal, la corna, mano cornuta o mano sacando cuernos. Dio falleció el 16 de mayo del 2010, luego de una batalla contra el cáncer estomacal.
Para recordarlo te traemos este tema:



Me gusta




0




Me encanta




0




Me divierte




0




Me asombra




0




Me entristece




0




Me enoja




0
---
---
10 de Julio de 2014 - Actualizado: 30 de Enero de 2016
---