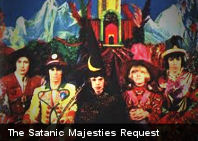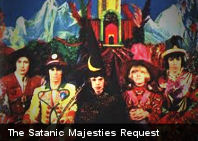 The Satanic Majesties Request es un álbum de rock psicodélico lanzado por The Rolling Stones en el año 1967. Este nombre tan particular alude a un texto que aparece en el pasaporte británico: «Her Britannic Majesty requests and requires…» («Su majestad británica -refiriéndose a la reina de Inglaterra-, solicita y requiere…»).

Al igual que habían hecho otros grupos en la década de los 60, The Rolling Stones editó un disco de música psicodélica en 1967. Como consecuencia del nombre de este álbum, a los integrantes de The Rolling Stones se les conoce como «Their Satanic Majesties» («Sus Majestades Satánicas»). Incluye una canción de Bill Wyman, el bajista del grupo: In Another Land.
El disco recibió fuertes críticas por su pronunciada incursión en la psicodelia, convirtiéndose en una suerte de «álbum maldito» del grupo, al tiempo que un objeto de culto para parte de sus fans, al tratarse del trabajo de los Stones que más se aproxima al Rock Psicodélico.
Entre sus temas más celebrados están la balada de tintes Psicodélicos «She's a rainbow», y los cortes «Citadel», «2000 man» y «2000 light years form home». Cabe destacar que «2000 man» fue versioneada por Kiss para su disco de 1979 «Dinasty», convirtiéndose en un tema clásico de su repertorio, mientras que «2000 light years from home» fue recientemente revisitada por el grupo americano Monster Magnet, en su último álbum «4 way diablo».
Este es el tracklist del disco:
Sing This All Together
Citadel
In Another Land
2000 Man
Sing This All Together (See What Happens)
She's a Rainbow
The Lantern
Gomper
2000 Light Years from Home
On With the Show
Hoy se cumplen 48 años de la salida de este disco y lo recordamos así:
@Culturizando
Culturizando no se hace responsable por las afirmaciones y comentarios expresados por sus columnistas, anunciantes o foristas; y no reflejan necesariamente la opinión de la misma.
Culturizando se reserva el derecho a eliminar aquellos comentarios que por su naturaleza sean considerados ofensivos, injuriantes, fuera de la ley o no acordes a la temática tratada.
En ningún momento la publicación de un artículo suministrado por un colaborador, representará algún tipo de relación laboral con Culturizando.



Me gusta




0




Me encanta




0




Me divierte




0




Me asombra




0




Me entristece




0




Me enoja




0
---
---
08 de Diciembre de 2015 - Actualizado: 27 de Enero de 2016
---